Trial Introductory Flights
Which Option Best Suits You?
To make a booking for a Trial Introductory Flight, you have a few options available to you.
You can choose from one of the Flights described below, pay for your flight online using the 'Buy Now' button and we will call you to make a suitable time for your flight. This is great for Your First Flight.
OR......
If you wish to give a Gift Certificate to someone, choose the 'Buy Now' button. We will make out the Gift Certificate to the name that you provide and then email it to you.
Then let us know the date you would like the Gift Flight to happen and bring the Gift Certificate on the day.
OR......
If you already have an RA-Aus Pilot Certificate, or Private Pilot Licence or have some previous flying experience but don't have either of those, then simply text me your Name and Phone Number and I will call you. We can then discuss your previous flying experience and take it from there. 
Watch this video for a quick preview of what your

Trial Instruction Flight

has to offer you.
---
---
$149.00    

30 Minute Trial Instruction Flight
This 30 minute flight gives you the taste for what flying is all about. Your instructor demonstrates how the flight controls work. Then whilst your instructor oversees your input, you come onto the controls to manoeuvre the aircraft and get a 'hands on feel' of what it is like to fly. Awsome! You are flying the aircraft!!! 
This flight time counts towards your Pilot Certificate.
---
---
$285.00
    60 Minute Trial Instruction Flight
This 60 minute flight gives you more time to fly the aircraft and start to feel at home in a Recreational Aircraft and being a pilot.
With this longer flight time, you will experience more of what the aircraft is capable of doing. You will be flying the aircraft as your instructor walks and talks you through an introduction to various basic flying manoeuvres starting with the Effects of Controls, Straight & Level flight, Climbing and Descending and Turns.
In this hour long flight you get way more 'hands on time' at flying the aircraft and feeling what it is like to fly!
This flight time counts towards your Pilot Certificate.
---
---
$339.00    

75 Minute Trial Instruction Flight
This 75 minute flight gives you the Big Tour around Brisbane and Moreton Bay!
We take off from Redcliffe Airport and fly south-west towards Brisbane's Northern suburbs over Petrie at 1500 feet, then fly south to Enoggera passing Mt Cootha. We then descend to 1000 feet to fly over Queensland University while passing Southbank, the City and the Gabba towards Mt Gravatt.
From there we climb up to 2000 feet while passing Mt Cotton towards Redland Bay and then on to Stradbroke Island and the beautiful glistening Moreton Bay. We then venture northwards, flying over Moreton Island, Tangalooma Resort and the Shipwrecks. The scenery is simply stunning!
Climbing up to 3500 feet we track over towards southern Bribie Island with views of the Glasshouse Mountains in the background. We start descending while flying around Deception Bay and back into to Redcliffe Airport.
This is a Trial Instruction Flight and a Flight Experience that will leave you in awe of the amazing way that you can see the world while you are flying a light aircraft. You will fall in love with flying!
This flight time counts towards your Pilot Certificate.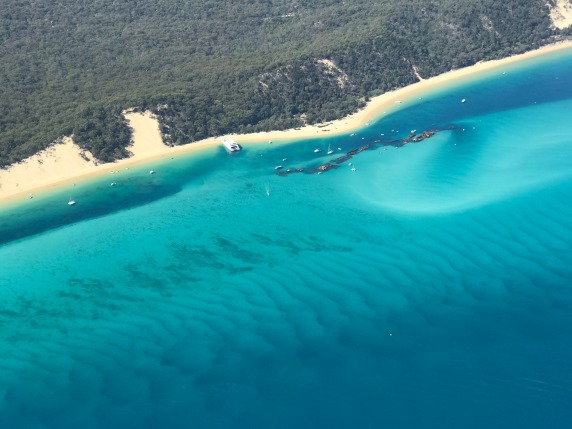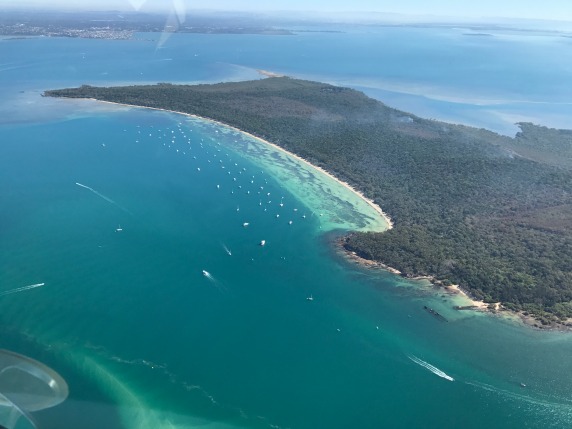 ---
---
How Do I Book My Flight?
After you have chosen which flight you would like:
Click on the Buy Now button
Enter your credit card details
At the bottom centre of the page is Add Special Instructions To Seller
Click on 'Add' at the end.
Enter your Name and the Gift Certificate Recipient Name

Enter your

Phone Number

Enter your

Email Address
Enter preferred Date and Time
We will contact you within 24 hours and confirm your flight.
---
How Do You Contact Us?
If you would like to contact us to make a booking or ask more questions about learning to fly...... then please send us a text with your name and any question you may have.
We will then call you as soon as we are free to talk to you.
Send your text to Mahl Oakes on 
0407 075 992
Why do we prefer you text us?.... We may not able to answer the phone because we might be flying when you ring.
However as soon as we have finished with our current customer, we will call you and answer any questions that you may have about learning to fly.